Volkswagen first introduced their up! concept in 2007, at the Frankfurt Motor Show. Ever since, we've been hoping to see a production model. Happily, we don't have long to wait. The up! production model will make its world premier at the Grand Palais on the Champs-Elsees in Paris, on August 22.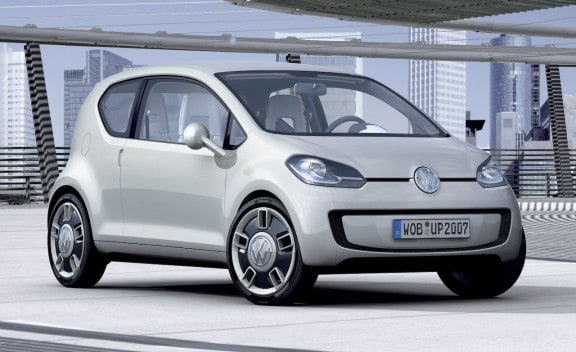 Given the Volkswagen up!'s modern, yet super-friendly aesthetic, and comfortable seating for four, it's certain to give other cars competing in the subcompact market a run for their money. While we do know that the up! has grown slightly in length and width compared to the concept, we're dying to learn if the interior will remain the same. Maybe you remember the flat-floating, air-inflatable seatbelts and dashboard monitors dedicated to car stats and multimedia? I guess we'll find out soon enough, won't we.
After Paris, Volkswagen plans to bring the all-new up! to the Frankfurt Motor Show, in the fall. Shortly thereafter, toward the end of 2011, the German automaker is slated to release the three-door variant, which is expected to be available with either a 1.0-liter gasoline engine or a 1.2-liter diesel engine. The five-door hatchback up! variant is expected to follow later next year. Then in 2013, Volkswagen plans to release the third edition: a multi-purpose vehicle (MPV). And, eventually: an EV installment.
How much will the Volkswagen up! cost? Likely not a lot. Unofficial whisperings have it in the ballpark of approximately $10,000.
Boston Volkswagen would like to note that Volkswagen has yet to confirm if the up! will come to the U.S. Though, thus far, all signs point to yes. We certainly hope it graces our showroom floors. Adding to our anticipation is a fun ad Volkswagen posted on YouTube (www.youtube.com/watch?v=wH3frZNbf-c). Without ever once showing us an image of the forthcoming car, it clearly conveys its ability to bring you...well, up. Even the ad makes you feel lighter...happier.
As Volkswagen says in the caption, "Isn't it the small moments that make us happy? That can make an ordinary day great? That make us feel like we're floating? In September 2011, the time has come. The up! is on its way..."1
Stay tuned for more Volkswagen up! news, coming soon. Boston Volkswagen located at 43 North Beacon Street Watertown, MA 02472, is dedicated to keeping you informed.
Source: 1 www.youtube.com/watch?v=wH3frZNbf-c